Selling your used car can be an arduous task. You hardly find any suitable buyers for a second-hand vehicle, and the hustle required to sell it consumes a lot of your time. You have to list it, answer calls from the buyers all day, and let strangers in your house inspect the car.
Similarly, many documents are required to sell car in Geelong to a genuine buyer. These necessary papers include:
1. RC (Registration Certificate) and Insurance, which are mandatory. The optional documents are the Invoice, Ownership Manual, and application of the insurance transfer.
2. Individual documents like proof of address, your valid ID proof, etc., are also mandatory to make a deal of selling your car.
3. A few additional documents are required in case of a financed vehicle or a few other reasons. The buyer may ask you for proof of service history as well.
But, when it comes to a Cash for Cars service like A1 Car Buyers, you can avoid all the troubles of looking for these documents and save up some time. You can simply call us and have your car sold within a day!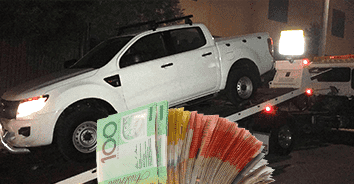 With Us, The Only Documents Required To Sell Car In Geelong Are:
Driver's license and proof of ownership. Yes, that's it! You can also have your car removed on the same day as well. So if you have an old junk car lying around in your garage, you need not think twice and instead give us a call! Here's how it works:
1. Call 0422 149 391 or fill out our online form to get a quick quote for your car. It is entirely non-obligational.
2. Say Yes to our offer, then pick a date and time to make the transaction.
3. Our tow-truck driver will come to you and will haul your vehicle away! We will also fill up your pockets with top cash!
Our towing process is totally free of cost, so we do not levy any service charges. You can now sell your used automobile in a carefree manner, without worrying about the paperwork at all!
Why Choose Us?
We believe in making the vehicle selling process a quick and convenient one. A1 Car Buyers is the most professional Auto wrecker in Geelong. Here are the top reasons why you should sell your car to us:
1. We make the offer for any vehicle: wrecked, junk, damaged, old, or scrap. Make, model and condition is no bar.
2. Instant cash is handed over on the spot.
3. 24/7, same-day removal services
4. Quick and prompt response time
5. Eco-friendly disposal of the vehicle, as we follow completely non-hazardous methods of wrecking.
Sell Your Car to A1 Car Buyers by just giving us a call on 0422 149 391 or filling our online form to get paid in top cash, with absolutely no paperwork worries.